The Chen Clan Ancestral Hall is another great tourist attraction for both locals and international visitors. It is also known as the 'Guangdong Provincial Museum of Folk Art'.
When I reached this place, I was greeted with a beautiful garden entrance which had several bird shaped trees and a colourful landscape.
However, the most outstanding feature of this location is where you can feast your eyes upon the intricate carvings which are displayed upon the rooftops of the building. The carvings are still in vibrant colours and is an indication of what can be expected inside.
Within the ancestral hall, there are hundreds of works of art created by various materials such as wood, clay, stone, embroidery, hand held fan arts, horns and much more.
Besides from observing the beautiful pieces of art there are many display rooms which showcase typical Lingnan architecture such as study rooms and bedrooms. You will be able to see them in great detail and understand the daily items they used and the type of clothing worn during that time.
As you enter each room there are caretakers who help answer any of your questions. However, some do not understand English.
There are some sections within the Chen Clan Ancestral Hall that ban photography of the artworks displayed. Please be aware of the signs when entering the display halls.
Once you are finished observing the beautiful artworks, you can explore the souvenir stores which have a variety of goods for visitors to purchase. You can purchase gifts such as miniature tea sets, bookmarks, clay figurines, jade jewellery, hand held fans, umbrellas and more.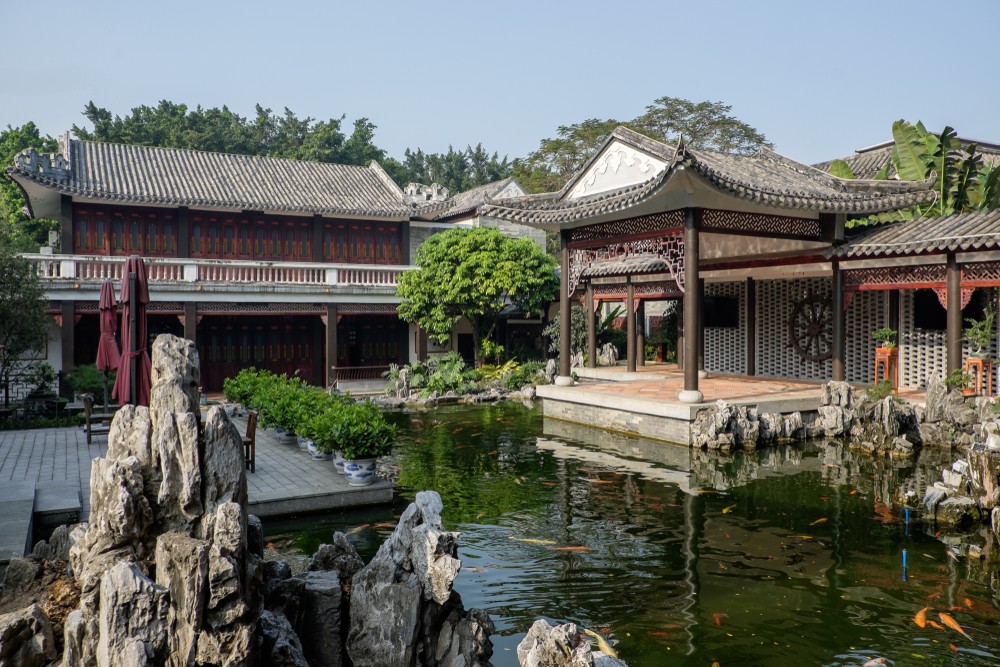 Upon arrival at the main gates of Lingnan Impression Garden, there are long walkways filled with dangling plants throughout the archway. This instantly makes you feel like you're entering a different part of the world and is slightly mysterious. Along the walkway, you will be able to see pieces of art spread out and each art work is connected with the history of its location.
Once you have entered the second gate, you will notice that the buildings are of a traditional nature, however, there is a modern touch to them.
The area is quite large, covering 40.7 acres, thus it would take a while to completely explore the area. This garden was created to be family orientated as there are wide playgrounds for children to run around and explore.
There are many unique stores and kiosks along the main street, which are great for getting gifts. It is worthwhile to visit the Lingnan Impression Gardens and it is constructed uniquely from the rest of Guangzhou as it contains temples, ponds and a manmade water features next to the pathways.